From Muscle Beach to Vaudeville Acts – A Glamorous Life
By Seasons | December 23, 2021
The golden years of Muscle Beach in Santa Monica became the Camelot of physical fitness. Muscle Beach was widely seen as the home of the fitness revolution, and the original Muscle Beach - located south of the Santa Monica Pier - was constructed in 1934 by the Works Progress Administration with the intention of creating a park on a public beach. It was at Muscle Beach where you would see an emerging subculture of gymnasts, athletes, bodybuilders and exhibitionists. It was during that time period when Muscle Beach got the attention of James "Jimmy" Lawlor.
James Lawlor was born and raised in Brooklyn in 1926. At the age of 15 due to bad posture and lack of stamina James started bodybuilding under the tutelage of his fitness coach and role model Dr. Fredrick Tilney, who was the brains behind developing bodybuilding programs.
But just like many teenage boys, James started hanging out with the wrong crowd which got him into some serious trouble. This is when his family suggested he move to San Diego to live with his older brother.
Eager to make a change in his life, he and a couple of his friends decided to enlist in the Navy.
After serving two years in the Navy, James found his way back to California. While hanging out at Muscle Beach, his interest to get back into bodybuilding took on a new meaning in his young adult life. With lots of consistency and dedication to body building James better known as "Jimmy" and Sarah Hirsch won Miss and Mr. Muscle Beach 1948.
After winning Mr. Muscle Beach, show business started calling his name. James joined Vaudeville Acts starring Peggy Taylor Trio and the "International Adagio Dancers."
His Muscle Beach days and Vaudeville acts opened many doors and friendships. He was on the Ed Sullivan show, he performed at Madison Square Gardens and he met and became friends with Steve Reeves, who played Hercules (1958 film) and Henry Francois better known as "Jack LaLanne."
During his Muscle Beach and Vaudeville days James got married and had two sons. But being on the road was hard as a family man. So, he quit show business to spend more time with his family. Shortly thereafter in the 1950s, James, his wife, and two sons relocated to Nevada. James continued to stay actively involved in health and nutrition. One of his favorite activities was hiking.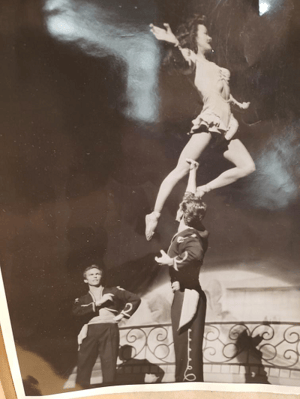 After his wife of 63 years died, he became very lonely. A friend of his encouraged him to take up ballroom dancing. Hesitant at first, he decided to give it a try. So, at the age of 87 years old, James joined ballroom dancing as a means of socialization.
Unbeknownst to him, it was there where he would meet and fall in love with his ballroom instructor Sandra Martin. After knowing Sandra for three months he proposed to her and six months later they got married. Sandra fondly recalled a time when they were at the park and he did a handstand on the park's high bar, he was around 88 years of age!
In October of 2020 Mr. Lawlor – who was diagnosed with chronic lymphocytic leukemia - came on service with AccentCare, via our local operations as Seasons Hospice & Palliative Care in Las Vegas. His care team noticed right at the start what a strong grip James had when shaking hands.
As with many patients who come under our care, James enjoyed time with our music therapist and social worker. Spending quality, engaging time with him, his care team could not overlook his fascinating life story and sought to capture his memories in the form of this story as a legacy to his family and those that knew him.
A year later in October of 2021 he died leaving behind his wife Sandra Martin- Lawlor, two sons, two-step daughters, several grandchildren, and many friends. A life very, very well lived.