A Trailblazing Fashionista from Hawaii to California
By Seasons | December 07, 2021
Meet Esther. At 104 years of age she has an incredible legacy and rich history to share. To this day she embodies vivacity, a quick wit, and a great sense of humor.
We are so honored to have Esther under our care at Ohana Care in Mission Viejo, California. She is quite engaging in telling us of her experiences. So much so, we wanted to capture some of her storytelling to share with others, but mostly so her legacy is never forgotten by generations to come.
Born of Japanese immigrants, Esther was welcomed into this world in 1917 in Hawaii. She lived on the Hawaiian island of Oahu through most of her life and had a couple successful businesses that she owned and managed. She is the middle child of 13 siblings and has one sister that is also alive whom the family lovingly calls 'Aunt Porky'.
If you do your math quick enough, you will note that Esther lived through a poignant time of United States history: the bombing of Pearl Harbor on Dec. 7, 1941 which occurred on the island of Oahu. Esther shared with us that she was working at the local malt shop that she owned with her sister when the bombing of Pearl Harbor occurred.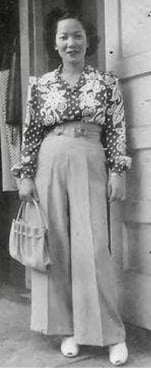 Following the war, Esther and her sister dissolved the malt shop. But Esther did not sit idly by. Fashion was always a passion for her, and following the closure of the malt shop, she became a saleswoman at a high-end women's dress shop in Honolulu on the island of Oahu.
She quickly won the respect and appreciation from her boss at the woman's dress shop too. Esther shared that one day her boss called her into his office. She said she was terrified, fearing that she was going to be terminated. With a giggle, she proclaimed that it ended up being quite the opposite, as her boss presented her with the first ever designation as "Employee of the Month."
In addition to being an exceptional saleswoman, she also hand-created and stitched custom-made Kimonos to supplement her income. Her Kimonos were of such quality that when Japan had a lack of silk fabrics she proudly gave them to those who needed them, including a family member who was getting married. She quickly became known on both sides of the Pacific for the quality of her workmanship and the materials – primarily silk – that she would use to create her Kimonos.
She married the love of her life, Paul William Shaffer, who served in the Army Corps during WWII. Together they raised four children in their 44 years of marriage. She was widowed in 1985, and Paul was buried at the National Veterans Cemetery of the Pacific in Honolulu, located in Kaneohe on the island of Oahu. It is here that Esther will have her final resting place as well.
In 1992, Esther moved from Hawaii to Mission Viejo to be closer to her four children who are involved with her care. Esther remarks she is loved, spoiled and doted over with the love of her family - deserving every bit of it we think! The family of course has since grown since 1992, and now includes her eight grandchildren, nine great grandchildren and two great-great grandchildren. What a legacy she leaves behind many to cherish and learn from.