Man's Best Friend at All Stages of Life
By April Dovorany | January 02, 2018
They say that dog is man's best friend, and those are words that are all too true for pet therapy team Rosemary and her pup, Sophie.
From the first time we welcomed Sophie to a Seasons Hospice facility, we quickly realized that Sophie and her handler Rosemary have a special way with our patients who are healing, hurting and needing a special sense of peace.
One of the first patients we had Rosemary and Sophie meet was Anna.
Anna was one of our patients in Michigan, living with COPD and early onset dementia. She didn't have any family that lived nearby, so we made an extra special effort to offer not only care but companionship that her family could not provide. For months, our staff worked tirelessly to get Anna to open up; including her in group projects and games, reminiscing with her while watching old movies, and conversing with her as they helped her get ready for the day or snuggled up in her cozy bed. While she made progress, we still felt there was more to learn about Anna.
But we saw an amazing breakthrough as soon as Anna started petting Sophie. Starting with stories about her experiences with dogs growing up, Anna shared facts and stories about her life.
We were thrilled, because in that thirty minute interaction, we learned more about Anna's life than we had in all our other visits with her combined!
We also appreciate Sophie for her ability to comfort. Another resident, Thomas, chose to spend most of his time in his small, warm, neatly-kept room at the end of a hallway in his Michigan nursing home. We tried to talk him into doing group activities, but instead he usually preferred chatting with us in his room. Thomas preferred to stay there because he thought his brother was going to pick him up and bring him back to the family farm and he didn't want to miss him. He even kept a suitcase by his door. Thomas had dementia, so he had a hard time remembering that his brother had passed away and the farm had been sold long ago. It was tough for our staff to see him end most of his nights disappointed.
But then Sophie came along. The very first time Thomas saw Sophie, he scooped her up in his arms, told her all about his family farm and the dogs he had and what a good girl she was. Thomas forgot about the suitcase sitting by his door and took Sophie's leash in his hands, grinning ear to ear. He walked her all the way to the front door, ending the night with a smile his brother would have been happy to see.
Rosemary says that the comfort and love Sophie gives can also be seen when the pair are volunteering at Camp Kangaroo.
Surrounded by children who have lost a loved one, Sophie is at her best, connecting with the kids by doing tricks and stealing hugs and kisses.
Rosemary still remembers the first-time interactions Sophie had with our campers.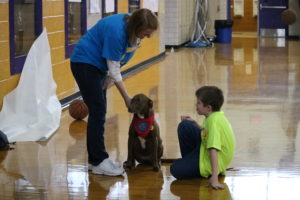 She says a twelve-year-old boy, who had recently lost his grandfather, would sneak away to play with Sophie during every break. On the last day of camp, the little boy walked up and hugged Sophie saying, "Sophie, I will probably never see you again but I will always remember you." Rosemary says it was all she could do to keep from bursting into tears.
These are just a few examples of how pet therapy is changing lives in the hospice community and doing it in just a short amount of time. Handlers certified with Delta Dog or Therapy Dogs International are encouraged to contact their local hospice to find out how to volunteer. Be prepared: it will have a huge positive impact on the patients you serve, but also on your own heart.